How can I support the Junior League of Waco?

The Junior League of Waco is looking for individuals and companies in the Waco area that have a personal interest in supporting our League and Community. By investing in JLW, you are investing in the women who volunteer in our community to help reach children 0-3 and their families.
Your contribution is valuable to us, whether it is partnering with us as a sponsor for one of our Community Projects or fundraisers such as Deck the Halls, or a donation to our Endowment Fund or a contribution to the General Fund. There are many ways to get involved with Junior League of Waco and your Community.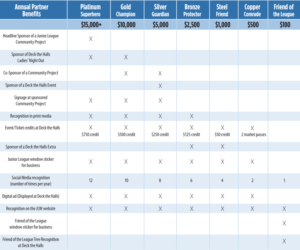 Click here to download Sponsorship Brochure.
Partner With Us