JOIN THE JUNIOR LEAGUE OF WACO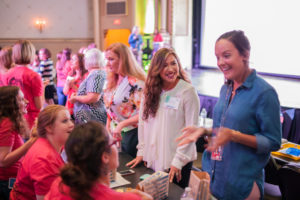 Founded in 1935, The Junior League of Waco is an organization of women committed to promoting voluntarism, developing the potential of women and improving the community through effective action and leadership of trained volunteers.
If you want to improve the lives in McLennan County, train to become a better leader, and form lifelong friendships and affiliations, then JLW is the organization for you!
ELIGIBILITY REQUIREMENTS
A prospective member must demonstrate an interest in volunteering and show a commitment to community service. A prospective member must be at least 22 years of age as of June 1, 2023 and must reside in McLennan County or the surrounding area.
PROSPECTIVE NEW MEMBER COURSES
The Junior League of Waco offers two new member courses each year.
Join Us!
Spring 2024
Our Spring 2024 New Member Course will run January 2024 through May 2024.
If you are interested in registering for our Spring 2024 New Member Course, please make plans to attend a recruitment social or information session!
Upcoming Socials/Information Sessions:
Hey Boo! Halloween-themed Informational
October 20, 2023 6:00 p.m., The Clifton House
Informational at Deck the Halls
November 5, 2023 2:00 p.m., Waco Convention Center Lobby
For questions or more info, please contact membershiprecruitment@juniorleaguewaco.org
Do you have a desire to make a difference in the community while having fun and making new friends?!
Registration is open for our Spring 2024 Class. Click here to begin the registration process!