Power of Pre-K Spring Giving Campaign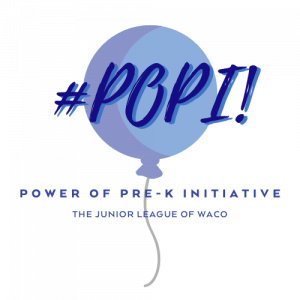 Power of Pre-K Initiative Spring Giving Campaign!
Did you know that children who attend high-quality Pre-K are more likely to start Kindergarten on grade level and read proficiently by 3rd grade, yet only 63% of eligible children attend?
This is why the Junior League of Waco is focused on ensuring all children in McLennan County have access to Pre-K and are equipped to thrive and fulfill their potential.
Launched in 2021, the Power of Pre-K Initiative (POPI) is a week-long awareness and fundraising campaign that harnesses the power of social media to illustrate the importance of Pre-Kindergarten and how the community can support early childhood education in Waco and McLennan County.
For one week, members and advocates utilize their personal social media pages to help raise awareness about the importance of early childhood education and development and to spark conversation about the power of Pre-K. During our first campaign in April 2021, our advocates raised over $3,600 towards Power of Pre-K community programs.
You can help make a difference by donating to the Junior League of Waco's Power of Pre-K Initiative. Every dollar raised helps us continue to offer programs supporting Pre-K in our community.
If you have any questions about POPI, please contact springfundraiser@juniorleaguewaco.org.
To donate, please click here!