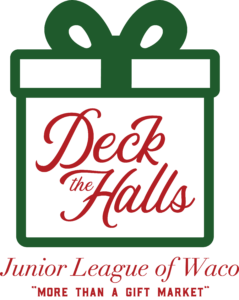 Welcome Potential Merchants,
We are excited that you are interested in the 2023 Deck the Halls Gift Market!
Waco is located along the well-traveled Interstate 35 corridor approximately 100 miles south of Dallas and 90 miles north of Austin. Our market offers merchants the opportunity to reach more than 220,000 Central Texans who call the Waco area their home.
The Deck the Halls Gift Market will kick off with the Ladies Night Out Preview Party on Thursday evening and the market will be open on Friday through Sunday, with several special events throughout the weekend. In addition, all special event photography will occur in the Market Hall and our performance stage will remain in the Market Hall this year to encourage people to shop before and after performances. All proceeds benefit the mission of the Junior League of Waco and our many community projects.
The criteria by which merchants are selected for the Market include the quality and uniqueness of the merchandise, price point, booth decoration, general display, and promptness in returning ALL completed information. Please note that we will NOT be accepting samples, only photographs.  Each merchant should have at least four photos attached to their application.  Photos should be of the merchandise being sold or the setup of the booth. Please note, that although we try our best to avoid merchants selling duplicate items/merchandise, we cannot guarantee exclusivity.
If you are selected to be a merchant, you will be sent an invitation letter and contract packet. Booth assignments will be made after the selection process is complete and both the signed contracts and booth deposits have been received. Please note that merchants are also required to submit gift certificates to their booths, valid only for that weekend that equal $100.00 (five $ 20 certificates).
Please continue to check back to this page for any update on the 2023 Deck the Halls Holiday Gift Market.
Instructions for Applying to Deck the Halls 2023:
Please follow the steps below to apply:
Merchants that have never applied to Deck The Halls, please click here to request access.
Merchants that HAVE applied before, please click here to log in.