According to the Texas Hunger Initiative*, Texas ranks ninth highest in the country for child food insecurity, with more than 1.7 million children in the state at risk of hunger. The effects of this are seen in multiple areas, including the classroom.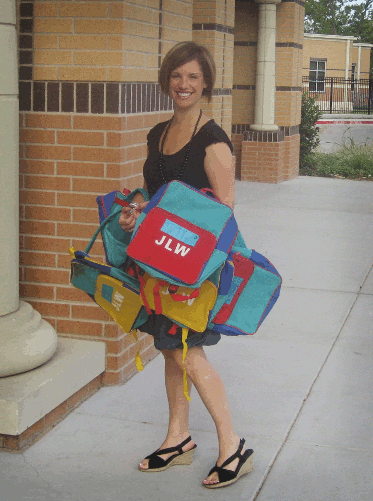 The backpack program originated in the Spring of 2008 with the Junior League's Talitha Koum committee addressed the needs of children at the center who appeared hungry upon returning to
the center after the weekend. The success of the program at Talitha Koum encouraged the 2009-2010 Junior League Provisional Class to implement a similar program for other children in McLennan County. Through donations of League members collected at monthly meetings, food items like canned fruits, snack crackers and granola bars were gathered and assembled in backpacks. These backpacks were sent home with selected students at Waco I.S.D. elementary schools. The program proved to be a success and the teachers noticed a marked improvement in the children. Not only were they less hungry when they returned on Monday, they had positive improvements both socially and physically.
The backpack program made such a positive impact during its first year that the Junior League chose to add it to its Community Programs and dedicate a committee of League members to its cause. Now, each week, the backpacks are packed with dinners, breakfasts and snacks and delivered to the schools. The goal of the program is to see continued improvement in the child's attitude, attention span, emotional stability, and their ability to participate and engage in educational activities. With so many kids in the Waco area that are food insecure it is the goal of the Junior League of Waco to make a substantial impact on their lives.
*Texas Hunger Initiative
http://www.baylor.edu/texashunger/index.php