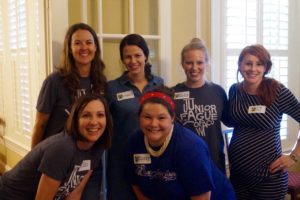 ---
We are excited to get to know you and serve our city together.The following list includes tentative requirements for the upcoming provisional year:
FINANCIAL REQUIREMENTS
1st Payment of $130 (May 1, 2017)
Local Dues: $77, AJLI Dues: $43, AJLI Provisional Training Fee: $10
2nd Payment of $110 (June 1, 2017)
Bus/Retreat SFF: $80, Reception SFF: $30
3rd Payment of $115 (September 1, 2017)
Special Function Fee: $50, Provisional Training Fee: $65
4th Payment of $95 (October 1, 2017 – this is paid all online)
DTH ticket obligation: $75, DTH T-Shirt: $20
If additional fundraising activities, fees or quota changes are approved by the membership during the year, Provisional members will be required to participate and make the appropriate adjustments. There are also miscellaneous expenses that may arise throughout the year, including meals, donations, or optional purchases.
MEETING REQUIREMENTS
Attend Provisional meetings (May 2017– April 2018) usually one per month as scheduled.
Attend monthly Junior League of Waco, Inc., General Membership meetings (September 2017 – April 2018, usually second Monday of the month). According to JLW Membership Policies, Article I, Criteria for Admission, Section A. Provisional Candidate 3. Provisional Requirements, a), Provisional members shall be required to attend Provisional meetings and General meetings. A Provisional member may have no more than two absences from required Provisional meetings and no more than two absences from required General meetings during the Provisional year. A Provisional member with three absences may petition the Board of Directors in person for an additional assignment in lieu of resigning or repeating the provisional course. The Board of Directors' decision will be final.
Attend one Junior League of Waco, Inc., Board of Directors meeting (June 2017- March 2018, usually the first Tuesday of the month).
Attend one each of the five Councils' meetings (Administration, Community, Finance, Fund Development, and Human Resources).
**Please note that all requirements must be completed by March 31, 2018 unless otherwise specified**
ADDITIONAL REQUIREMENTS
Attend Provisional Tea on September 11th, 2017.
Attend Provisional Retreat on June 24th, 2017.
Attend Community Bus Tour on July 29th, 2017.
Attend at least one training opportunity made available by the Training Committee.
Observe at least four placement opportunities, one being a Deck the Halls Holiday Gift Market general committee meeting. The DTH general committee meeting observation is to be completed prior to November 3 , 2017.
Work three, three-hour shifts at DTH, one being during an official DTH event, one on Saturday, November 4, 2017 or Sunday, November 5, 2017, and one of your choosing.
Work with Provisional classmates to plan and implement a community service project (attendance at planning meetings and implementation workshops required). The expectation is that each provisional will work 7-10 hours, as specified following the selection of the project.
Work one, three-hour shift at the Clifton House, JLW's headquarters. (Spring or Fall – cleaning, planting, organizing, garage sale, etc.)
Attend at least three assigned committee meetings.
Thank you for your interest in the Junior League of Waco.