Educate and Collaborate Workshops
The Educate and Collaborate Committee implements professional development opportunities for local early childhood professionals. The League partners with Region 12 to provide the professionals with CPE credits, and the League makes these professional developments free to the attendees.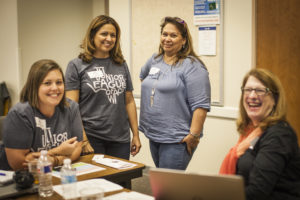 Early Childhood Education Professional Development Symposium
In 2018, the Educate and Collaborate Committee and Region 12 will host a professional development on September 27th from 9:00 a.m. – 4:00 p.m. at Region 12. This training will include several speakers who will discuss hot topics in early childhood education. There will also be an "open mic" session where early childhood professionals can speak about their organization and learn about other organizations. Visit www.esc12.net to register for this free event.
Early Childhood Bus Tour
Stay tuned for the announcement of the third annual Early Childhood Bus Tour that will expose early childhood professionals to several different organizations.
Contact educateandcollaborate@juniorleaguewaco.org for more information on these events.